Ready to build up that Spring TBR pile? Don't worry, we've got you covered. Check out everything coming from Tor Books in Spring 2022 here!
---
March 1
The Atlas Six by Olivie Blake
The Alexandrian Society, caretakers of lost knowledge from the greatest civilizations of antiquity, are the foremost secret society of magical academicians in the world. Those who earn a place among the Alexandrians will secure a life of wealth, power, and prestige beyond their wildest dreams, and each decade, only the six most uniquely talented magicians are selected to be considered for initiation. When the new candidates are recruited by the mysterious Atlas Blakely, they are told they will have one year to qualify for initiation. One will be eliminated. The six potential initiates will fight to survive the next year of their lives, and if they can prove themselves to be the best among their rivals, most of them will.
March 8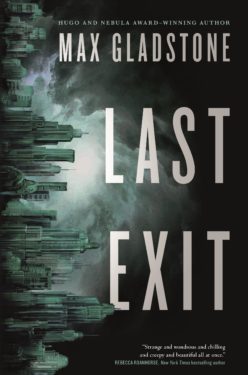 Last Exit by Max Gladstone
When Zelda and her friends first met, in college, they believed they had all the answers. They had figured out a big secret about how the world worked and they thought that meant they could change things. They failed. One of their own fell, to darkness and rot. Ten years later, they've drifted apart, building lives for themselves, families, fortunes. All but Zelda. She's still wandering the backroads of the nation. She's still fighting monsters. She knows: the past isn't over. It's not even past. The road's still there. The rot's still waiting. They can't hide from it any more. Because, at long last, their friend is coming home. And hell is coming with her.
March 15
The Kaiju Preservation Society by John Scalzi
When COVID-19 sweeps through New York City, Jamie Gray is stuck as a dead-end driver for food delivery apps. That is, until Jamie makes a delivery to an old acquaintance, Tom, who works at what he calls "an animal rights organization." Tom's team needs a last-minute grunt to handle things on their next field visit. Jamie, eager to do anything, immediately signs on. What Tom doesn't tell Jamie is that the animals his team cares for are not here on Earth. Not our Earth, at least.
Worlds of Exile and Illusion by Ursula K. Le Guin, introduction by Amal El-Mohtar
These three spacefaring adventures mark the beginning of grand master Ursula K. Le Guin's remarkable career. Set in the same universe as Le Guin's groundbreaking classics The Left Hand of Darkness and The Dispossessed, these first three books of the celebrated Hainish Series follow travelers of many worlds and civilizations in the depths of space. The novels collected in this Tor Essentials edition are the first three ever published by Le Guin, a frequent winner of the Hugo and Nebula Awards and one of the greatest science fiction and fantasy writers of all time. With a new introduction by Amal El-Mohtar, Hugo and Nebula Award-winning author.
Three Kings edited by Melinda M. Snodgrass, in the Wildcards World of George R.R. Martin
In the aftermath of World War II, the Earth's population was devastated by an alien virus. Those who survived were changed forever. Some, known as jokers, were cursed with bizarre mental and physical mutations; others, granted superhuman abilities, became the lucky few known as aces. Queen Margaret, who came to the English throne after the death of her sister Elizabeth, now lies on her death-bed. Summoning the joker ace Alan Turing, she urges him to seek the true heir: Elizabeth's lost son. He was rumored to have died as a baby but, having been born a joker, was sent into hiding.
March 22
The Bone Orchard by Sara A. Mueller
Charm is a witch, and she is alone. The last of a line of conquered necromantic workers, now confined within the yard of regrown bone trees at Orchard House, and the secrets of their marrow. Charm tends the trees and their clattering fruit for the sake of her children, painstakingly grown and regrown with its fruit: Shame, Justice, Desire, Pride, and Pain. The wealthy and powerful of Borenguard come to her house to buy time with the girls who aren't real. Except on Tuesdays, which is when the Emperor himself lays claim to his mistress, Charm herself. But now—Charm is also the only person who can keep an empire together, as the Emperor summons her to his deathbed, and charges her with choosing which of his awful, faithless sons will carry on the empire—by discovering which one is responsible for his own murder.
Destiny of the Dead by Kel Kade
The God of Death is tired of dealing with the living, so he's decided everyone should die. And he's found allies. The Berru, an empire of dark mages, has unleashed a terrifying army of monstrous lyksvight upon everyone with a pulse. While the wealthy and powerful, the kings and queens, abandon the dying world, one group of misfits says no more. Through dogged determination and the ability to bind souls to their dead bodies, Aaslo and his friends fight on. In the mountains of the far north, another bastion of defense is opened. Cherrí, the avatar of a vengeful fire god, has united the survivors amongst her people and begun her own war on the invaders. Now, Aaslo and Cherrí must find a way to unite their powers, one divine, the other profane, to throw back the monsters of the Berru, and challenge Death itself.
March 29
Sweep of Stars by Maurice Broaddus
The Muungano empire strived and struggled to form a utopia when they split away from old earth. Freeing themselves from the endless wars and oppression of their home planet in order to shape their own futures and create a far-reaching coalition of city-states that stretched from Earth and Mars to Titan. With the wisdom of their ancestors, the leadership of their elders, the power and vision of their scientists and warriors they charted a course to a better future. But the old powers could not allow them to thrive and have now set in motion new plots to destroy all that they've built. In the fire to come they will face down their greatest struggle yet.
April 5
Our Lady of Mysterious Ailments by T.L. Huchu
When Ropa Moyo discovered an occult underground library, she expected great things. She's really into Edinburgh's secret societies – but turns out they are less into her. So instead of getting paid to work magic, she's had to accept a crummy unpaid internship. Then her friend Priya offers her a job on the side. Priya works at Our Lady of Mysterious Maladies, a very specialized hospital, where a new illness is resisting magical and medical remedies alike. If Ropa can solve the case, she might earn as she learns – and impress her mentor, Sir Callander. Her sleuthing will lead her to a lost fortune, an avenging spirit and a secret buried deep in Scotland's past. But how are they connected? Lives are at stake and Ropa is running out of time.
Aspects by John M. Ford
Enter the halls of Parliament with Varic, Coron of the Corvaric Coast. Visit Strange House with the Archmage Birch. Explore the mountains of Lady Longlight alongside the Palion Silvern, Sorcerer. In the years before his unexpected death, John M. Ford wrote a novel of fantasy and magic unlike any other. Politics and abdicated kings, swords and sorcerous machine guns, divination and ancient empires—finally, Aspects is here.
April 12
Shadow Fallen by Sherrilyn Kenyon
For centuries, Ariel has fought the forces of evil. Her task was to protect the souls of innocent mortals when they die. Captured by a powerful sorceress, she is transformed into a human who has no memory of her real life or calling. And is plunked into the middle of the Norman invasion of England. Cursed the moment he was born with a "demonic deformity," Valteri wants nothing of this earth except to depart it and will do his duty to his king until then. When a strange noblewoman is brought before him, Valteri realizes he has met her before…in his dreams. When others come for her, bringing with them preternatural predators, he is faced with a destiny he had no idea was waiting. One he wants no part of.
April 19
Flint and Mirror by John Crowley
As ancient Irish clans fought to preserve their lands and their way of life, the Queen and her generals fought to tame the wild land and make it English. Hugh O'Neill, lord of the North, dubbed Earl of Tyrone by the Queen, is a divided man: the Queen gives to Hugh her love, and her commandments, through a little mirror of obsidian which he can never discard; and the ancient peoples of Ireland arise from their underworld to make Hugh their champion, the token of their vow a chip of flint.
April 26
Nettle & Bone by T. Kingfisher
Marra never wanted to be a hero. As the shy, convent-raised, third-born daughter, she escaped the traditional fate of princesses, to be married away for the sake of an uncaring throne. But her sister wasn't so fortunate—and after years of silence, Marra is done watching her suffer at the hands of a powerful and abusive prince. Seeking help for her rescue mission, Marra is offered the tools she needs, but only if she can complete three seemingly impossible tasks. But, as is the way in tales of princes and witches, doing the impossible is only the beginning.
The Discord of Gods by Jenn Lyons
Relos Var's final plans to enslave the universe are on the cusp of fruition. He believes there's only one being in existence that might be able to stop him: the demon Xaltorath. As these two masterminds circle each other, neither is paying attention to the third player on the board, Kihrin. Unfortunately, keeping himself classified in the 'pawn' category means Kihrin must pretend to be everything the prophecies threatened he'd become: the destroyer of all, the sun eater, a mindless, remorseless plague upon the land. It also means finding an excuse to not destroy the people he loves (or any of the remaining Immortals) without arousing suspicion.
Up Against It by Laura J. Mixon
Jane Navio is the resource manager of Phoecea, an asteroid colony poised on the knife-edge of a hard vacuum of unforgiving space. A mishap has dumped megatons of water and methane out the colony's air lock, putting the entire human population at risk. Jane discovers that the crisis may have been engineered by the Martian crime syndicate, as a means of executing a coup that will turn Phocaea into a client-state. And if that wasn't bad enough, an AI that spawned during the emergency has gone rogue…and there's a giant x-factor in the form of the transhumanist Viridian cult that lives in Phocaea's bowels.
May 3
Book of Night by Holly Black
Charlie Hall has never found a lock she couldn't pick, a book she couldn't steal, or a bad decision she wouldn't make. She's spent half her life working for gloamists, magicians who manipulate shadows to peer into locked rooms, strangle people in their beds, or worse. Gloamists guard their secrets greedily, creating an underground economy of grimoires. And to rob their fellow magicians, they need Charlie Hall. Now, she's trying to distance herself from past mistakes, but getting out isn't easy. Bartending at a dive, she's still entirely too close to the corrupt underbelly of the Berkshires. Not to mention that her sister Posey is desperate for magic, and that Charlie's shadowless, and possibly soulless, boyfriend has been hiding things from her. When a terrible figure from her past returns, Charlie descends into a maelstrom of murder and lies.
May 24
Origin of Storms by Elizabeth Bear
The Lotus Kingdoms are at war, with four claimants to the sorcerous throne of the Alchemical Emperor, fielding three armies between them. Alliances are made, and broken, many times over—but in the end, only one can sit on the throne. And that one must have not only the power, but the rightful claim. The Rajni Mrithuri stands as the chief claimant to the Alchemical throne now, but she and her empire remain a prize to be taken unless she gets an heir. She has her allies–her cousin Sayeh, a dragon, a foreign wizard, a fearsome automaton, and the Dead Man–but the throne has the final say. And if it rejects her, the price is death.
What book are you reading first? Let us know in the comments!