By Ariana Carpentieri:
With spring right around the corner, there's no better time to spruce up your home and refresh your bookshelf. Spring cleaning, am I right? And boy, do we have a book for you the cleans up real nice. Meet The House Guest—a diabolical cat-and-mouse thriller from USA Today bestselling author Hank Phillippi Ryan.
After every divorce, one spouse gets all the friends. What does the other one get? If they're smart, they get the benefits. Alyssa Macallan is terrified when she's dumped by her wealthy and powerful husband. With a devastating divorce looming, she begins to suspect her toxic and manipulative soon-to-be-ex is scheming to ruin her—leaving her alone and penniless. And when the FBI shows up at her door, Alyssa knows she really needs a friend.
And then she gets one. A seductive new friend, one who's running from a dangerous relationship of her own. Alyssa offers Bree Lorrance the safety of her guest house, and the two become confidantes. Then Bree makes a heart-stoppingly tempting offer. Maybe Alyssa and Bree can solve each others' problems.
But no one is what they seem. And the fates and fortunes of these two women twist and turn until the shocking truth emerges: You can't always get what you want. But sometimes you get what you deserve.
The House Guest is the perfect pick for your next book club discussion. Here's a breakdown on what to watch, what to eat, what to drink, and what to listen to while you read it!
---
What to Watch
Divorce. Life changing as you know it. Luxurious lifestyles being threatened. Wealth slipping through your fingers. Friendships not truly being what they seem. All of these mysteriously fascinating topics are not only highlighted in The House Guest, but also in the movie The Weekend Away. This Netflix thriller is about a woman (Beth) who travels to Croatia for a weekend getaway with her best friend (Kate) because Beth's marriage has hit a dull patch and Kate is recently divorced. So a quick vacay is just the medicine both ladies are looking for. But on this fateful trip, Kate suddenly goes missing and it's up to Beth figure out what exactly happened. As Beth's investigation unravels, secrets are revealed and everything she thought she knew about her best friend is called into question. Perhaps Kate isn't so innocent…and perhaps neither is Beth.
What to Eat
This thrilling book features a (twisted) female friendship. And when I sit down to spill the tea with my girlfriends, I love to order some avocado toast. This dish is not only delicious but also very satisfying—just like how reading The House Guest feels! The best part about avocado toast is its versatility—there are endless ways to customize it to your liking. Personally, I always order mine with a sunny-side-up egg on top. It's a game-changer.
What to Drink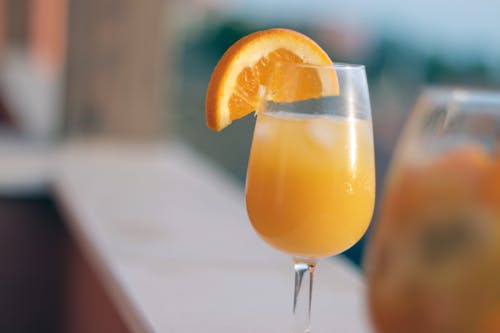 Keeping within that same brunch theme, mimosas are an absolute must when hanging out with your gal pals. Whether you're lounging by the pool or brunching at your favorite local restaurant, having a mimosa with the sun shining down and a gentle breeze in the air just hits different. But if alcohol isn't your thing, then a mimosa mocktail would make for a fabulous substitute!
What to Listen to
I am convinced that there is no better song to accompany reading this book than
Vigilante Sh*t
by the one and only Taylor Swift.
Now she gets the house, gets the kids, gets the pride / Picture me thick as thieves with your ex-wife / And she looks so pretty driving in your Benz / Lately she's been dressing for revenge.
It's giving I-may-have-killed-my-snake-of-a-husband-but-I'm-pretty-enough-to-get-away-with-it vibes. It's about female empowerment, enacting revenge on men, a potential (albeit fake) murder confession, and dark secrets coming to the surface. It's basically a song that'll make you feel like a total baddie, which is the
s
ame exact feeling you'll get from reading
The House Guest
.
---
Click below to order your copy of The House Guest, available now!