Time flies like an arrow, fruit flies like a banana, and somehow it's about to be 2019.
So it's past time you knew about all the vicious, epic, clever, deep and all around dazzling titles we have coming this Winter. Because Winter *is* coming. We've got new Salvatore, Doctorow, and Weber, we've got time travel mishaps, we've got dragons the size of mountains, we've got a planet that doesn't spin, and we've definitely got something for everyone.
Check out our list and prepare a TBR throne from which to read these new Tor books:
January 8
Through Fiery Trials by David Weber 
Those on the side of progressing humanity through advanced technology have finally triumphed over their oppressors. However, even though a provisional veil of peace has fallen over human colonies, the quiet will not last. For Safefold is a broken world, and as international alliances shift and Charis charges on with its precarious mission of global industrialization, the shifting plates of the new world order are bound to clash.
January 15
The Iron Codex by David Mack
1954: Cade Martin, hero of the Midnight Front during the war, has been going rogue without warning or explanation, and his mysterious absences are making his MI-6 handlers suspicious. In the United States, Briet Segfrunsdóttir serves as the master karcist of the Pentagon's top-secret magickal warfare program. And in South America, Anja Kernova hunts fugitive Nazi sorcerers with the help of a powerful magickal tome known as the Iron Codex.
January 22
A Labyrinth of Scions and Sorcery by Curtis Craddock
The newfound respect gained Isabelle des Zephyrs after discovering the well of hidden magic within her, unveiling a centuries-long conspiracy, and stopping a war between rival nations is quickly taken away when Isabelle is unfairly convicted of breaking the treaty she helped write. Now bereft, she nevertheless finds herself drawn into mystery when her faithful musketeer Jean-Claude uncovers a series of gruesome murders by someone calling themselves the Harvest King.
January 29
Reckoning of Fallen Gods by R. A. Salvatore
The winds of change are blowing upon Fireach Speur. Aoelyn risked her life to save the trader Talmadge and it cost her everything that is dear to her, but Talmadge survived and can't forget the amazing woman that killed a god. Little do they realize, war is coming to the mountain. Far to the west, a fallen empire stirs. One that sees a solar eclipse as a call to war. Their empire once dominated the known world and they want it back.
Tides of the Titans by Thoraiya Dyer
Leaper is a man of many skills, but none of his talents satisfy the yearning in his heart for the Queen of Airakland, the ruler of a thunder-clashed kingdom. Their affair is cut too short, however, when she is murdered. But who was the assassin? A political rival? The jealous king? Or, perhaps, the god of thunder who oversees them all?
February 5
Endgames by L. E. Modesitt Jr.
Charyn, the young and untested ruler of Solidar, has survived assassination, and he struggles to gain control of a realm in the grip of social upheaval, war, and rioting. Solidar cannot be allowed to slide into social and political turmoil that will leave the High Holders with their ancient power and privilege, and the common people with nothing. But the stakes are even higher than he realizes.
The Ruin of Kings by Jenn Lyons
When Kihrin is claimed against his will as the missing son of a treasonous prince, he finds himself at the mercy of his new family's ruthless power plays and political ambitions. Practically a prisoner, Kihrin discovers the storybooks have lied about dragons, demons, gods, prophecies, and how the hero always wins. Then again, maybe he isn't the hero after all. For Kihrin is not destined to save the world. He's destined to destroy it.
Strife's Bane by Evie Manieri
When Lahlil was called upon to lead the rebellion against Norlanders—telepathic and bloodthirsty invaders who conquered Shadari lands and enslaved their people to the mines—she delivered. Then she ran. Now, Lahlil must return to Shadar to save the person she loves the most and rebuild. What she finds first is a kingdom that has devolved to political discord, with an old enemy's ships sailing just beyond the horizon.
February 12
The City in the Middle of the Night by Charlie Jane Anders
January is a dying planet–divided between a permanently frozen darkness on one side, and blazing endless sunshine on the other. Humanity clings to life, spread across two archaic cities built in the sliver of habitable dusk.
But life inside the cities is just as dangerous as the uninhabitable wastelands outside.
The Revenant Express by George Mann
Sir Maurice Newbury is bereft as his trusty assistant Veronica Hobbes lies dying with a wounded heart. Newbury and Veronica's sister Amelia must take a sleeper train across Europe to St. Petersberg to claim a clockwork heart to save Veronica from a life trapped in limbo. Meanwhile, a series of horrific crimes have been plaguing London. It's a rousing chase to save both London and Veronica. Will these brave detectives be up to the task?
February 19
Broken Stars by Ken Liu
A collection of Chinese stories that span the range from short-shorts to novellas, and evoke every hue on the emotional spectrum. In addition, three essays at the end of the book explore the history of Chinese science fiction publishing, the state of contemporary Chinese fandom, and how the growing interest in science fiction in China has impacted writers who had long labored in obscurity.
Chronin Volume 1: The Knife at Your Back by Alison Wilgus
Through a time-travel mishap, Mirai is stuck in 1864 with no way out. Help may be found when she befriends Hatsu, a humble tea mistress harboring a dangerous secret. Yet time is running short for the entire nation, because Mirai knows that the shogunate is about to fall. Learning the way of the sword might be her only path towards survival.
Kellanved's Reach by Ian C. Esslemont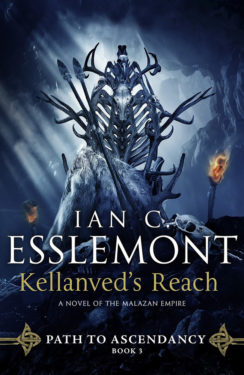 The incessant war between the bickering city states of Quon Tali rages but Kellanved could not care less about any of this petty politicking or strategy or war. Something other and altogether more mysterious has caught his attention and he – together with a reluctant and his decidedly skeptical friend Dancer – traverse continents and journey through the Realms. But this ancient mystery that has so captivated Kellanved is neither esoteric nor ephemeral. It involves the Elder races themselves, and more alarmingly, the semi-mythic Army of Dust and Bone.
February 26
In the Land of the Everyliving by Stephen R. Lawhead
Conor and his sword companions must leave the safety of the faéry kingdom for the barbarian Scálda threaten to overrun Eirlandia. As he fights for his people's survival, Conor discovers that several of the clan leaders have betrayed their nation by aiding the Scálda. The corruption is such that Conor and his men choose to become outcasts, clan-less and open to attack by friend and foe alike.
Miss Violet and the Great War by Leanna Renee Hieber
The Guard have always been with us, their powers passed on from generation to generation. Usually the old and new Guards have no connection, but that all changed when the six became seven and the brooding Alexi Rychman, leader of the Victorian Guard, found himself hopelessly in love with the gentle Percy Parker, who barely understood her own tremendous power. In Miss Violet and the Great War, Percy and Alexi's daughter, Violet, leads a new Guard onto a new battlefield. Not just a psychic war this time, but a real one, with bullets flying, gas attacks, and death on every side.
March 5
Creation Machine by Andrew Bannister
In the vast, artificial galaxy called the Spin, a rebellion has been crushed. Viklun Hass is eliminating all remnants of the opposition. Starting with his daughter. But Fleare Hass has had time to plan her next move from exile to the very frontiers of a new war.
March 12
A Gathering of Shadows by V. E. Schwab
It has been four months since the mysterious stone fell into Kell's possession. Four months since he crossed paths with Delilah Bard. Now, while his own city is caught up in the pageantry and thrills of a cross-empire magical competition, a once-lost London is returning to life. But the balance of magic is ever perilous, and for one city to flourish, another London must die.
March 19
Luna: Moon Rising by Ian McDonald
A hundred years in the future, a war wages between the Five Dragons—five families that control the Moon's leading industrial companies. Through ingenious political manipulation and sheer force of will, Lucas Cortas rises from the ashes of corporate defeat and seizes control of the Moon. The only person who can stop him is a brilliant lunar lawyer, his sister, Ariel.
The Perfect Assassin by K. A. Doore
The assassins of Ghadid serve a higher power, dispensing justice in the shadows. Or so Amastan has been taught. Until, unexpectedly, Amastan finds the body of a very important drum chief. Until, impossibly, fellow assassins are being killed off. Until, inevitably, Amastan is ordered to solve these murders.
Radicalized by Cory Doctorow
Told through one of the most on-pulse genre voices of our generation, Radicalized is a timely novel comprised of four SF novellas connected by social, technological, and economic visions of today and what America could be in the near, near future.
March 26
A Memory Called Empire by Arkady Martine
Ambassador Mahit Dzmare arrives in the center of the multi-system Teixcalaanli Empire only to discover that her predecessor has died. But no one will admit that his death wasn't an accident—or that Mahit might be next to die. Now, Mahit must discover who is behind the murder, rescue herself, and save her Station from Teixcalaan's unceasing expansion—all while navigating an alien culture that is all too seductive, engaging in intrigues of her own, and hiding a deadly technological secret.