The term "shipping" has a lot of different meanings: riding a boat, getting a package from Point A to Point B, to name a few. But in the world of fandoms, shipping has an entirely different context—the wanting/support of two people in a romantic relationship, be is canonly blessed by the creator or subtext brought to full fruition through the wonders of Ao3.
With all the love we're feeling in the air (or something like that…), we decided on a mission around the office―to discover the Tor staff's favorite science fiction and fantasy pairings and SHARE THEM WITH THE ENTIRE WORLD! From Delilah Bard and her knives, to Drarry and beyond, things got…wild.
*WARNING: Here there be spoilers. Enter at your own risk*
---
Lila and her knives from The Shades of Magic series
Let me start off by saying I would die for/at the hands of Lila Bard, that #StabbyKingBitch. Sure, Lila cares very deeply for Kell, they've been through a lot together and she owes him a lot for taking her to Red London and introducing her to magic. But her knives have been with her even longer, are always at her side, and are firmly the things she loves most in the world. Schwab's series gives us many a scene in which Lila is sharpening/tending to the knives she has, or lustfully admiring new ones with that playfully wicked glint in her eye. There is no love that ever transcends what Lila knows to be true — that at the end of the day, she only has herself, and she has to be able to defend that. Lila has found true independence and strength with her knives, and with them in her hand, she became the person she wanted to be. Could you ask for a better love story than that? I think not.
—Christina Orlando, Books Editor & Publicity Coordinator, Tor.com
Murderbot and ART from The Murderbot Diaries
Can the grumpy one love the other grumpy one? The answer is a resounding "yes" in Martha Wells' crushingly relatable protagonist, who just wants to close the door to have a feeling in private. Wells finds an astonishingly deep well of humanity in her proudly non-human narrator, and the books only get better when ART (the terrifyingly intelligent transport vessel who serves as the series' answer to HAL 9000) comes on the scene and the two begin their grudging partners-to-"wait are we dating now?" partnership. ART understands what all of us in the internet age already know: love is watching the person (or Murderbot) you love watch their favorite media so you can roll around in the refracted joy. Network Effect (May 2020), the first novel-length entry in the series, is the most satisfyingly romantic of them all.
—Ruoxi Chen, Associate Editor, Tor.com Publishing
Three Seagrass and Mahit Dzmare from <>A Memory Called Empire
*Spoilers.*
Sometimes you're an overwhelmed young ambassador in the heart of a hostile space empire that might just manifest destiny you right out of a home, but you can still find a little comfort in poetry and smooches with your political attache.
—Renata Sweeney, Senior Marketing Manager, Tor Books 
Harry Potter and Draco Malfoy from the Harry Potter series
Here's the thing about shipping—at some point, fandom transcends canon, and the lives and personalities of the characters change to suit the needs of readers. The Harry Potter fandom has a lot of widely accepted Fanon facts, everything from how the American wizarding system works to what the Golden Trio's children are like. We did a lot of the heavy lifting. Included in that is the knowledge that Draco Is Not A Wizard Nazi Just Kind Of A Rich Dillhole. Look, we all love a good enemies-to-lovers story, we love a redemption arc. We also love queer sexual tension, which these two have plenty of. Draco's fanon character allows for a perfect pairing with Golden Boy Harry. Both are headstrong, both have destinies laid out for them that they don't necessarily want, but their significantly different upbringings allow for delightful headbutting and bickering. Of course, as they grow older (and book H&D do this too), there's more room for maturity and understanding. But what makes these two so good is the petty teasing, the deliciousness of two people with strong personalities trying to constantly one-up each other. And then there is forgiveness, the unpacking of childhood trauma, and the finding of common ground. It's a beautiful thing.
—Christina Orlando, Books Editor & Publicity Coordinator, Tor.com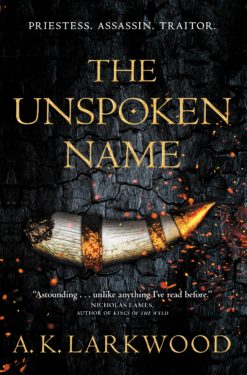 Csorwe and Shuthmili from The Unspoken Name
A flinty orc priestess jock with great arms who survived some sensationally bad wizard parenting and a Seems Delicate, Actually Ineffably Powerful femme sorceress who has zero (0) sense of self-preservation and very pretty hair? Uh, sign me up, every time. Csorwe and Shuthmili share troubled pasts and upbringings as young women raised to a greater purpose at the cost of their personal happiness. The Unspoken Name knows how to bring the hurt down on you like a hammer, but their romance—and their slow discovery of how to value themselves and each other—will leave you happily wallowing in a sea of joyful, queer comfort.
—Ruoxi Chen, Associate Editor, Tor.com Publishing

The book Unconquerable Sun and the book Relentless Moon.
Both of these Tor books are coming out in the same month, they're both sci-fi and they have sun and moon in the title! They have so much in common! They should kiss. Wait, hold on, I have an Instagram idea.
—Renata Sweeney, Senior Marketing Manager, Tor Books 

Linus Baker and Arthur Parnassus from The House in the Cerulean Sea
Linus and Arthur in The House in the Cerulean Sea have a quiet, soft sort of love, like a mug of perfectly warm hot cocoa topped with whipped cream and sprinkles. There's a secret touch of cinnamon that adds a subtle spiciness. Honestly, this ship is charming, heartwarming, and delights me to no end. Sometimes a family is a by-the-book caseworker, the master of an orphanage, and six magical children. Applicable tropes: #slowburn #pining #fluff #foundfamily
—Rebecca Yeager, Ad Promo Manager, Tor Books

Crowley and Aziraphale from Good Omens
One is an ex-angel who "did not so much Fall as Saunter Vaguely Downwards." The other is a Principality that gave away the sword guarding the Garden of Eden to Adam and Eve because he was afraid of them getting cold. Together, they make the dumbass Ineffable Husbands of my literary dreams whose well-meaning but disastrous shenanigans will make this ship sail until the end of times.
—Rachel Taylor, Marketing Manager, Tor Books