The end of 2020 is approaching (YAY) and we're looking back on this incredibly chaotic year for some of the bright spots. So, how about we celebrate all of our amazing new series that kicked off in 2020 (At least, these are the books we know have sequels planned, but if we've learned anything in 2020 it's to expect the unexpected)? Check out the full list below!
---
Burn the Dark (The Malus Domestica series) by S. A. Hunt
Chilling Adventures of Sabrina meets Stranger Things in award-winning author S. A. Hunt's Burn the Dark, first in the Malus Domestica horror action-adventure series about a punk YouTuber on a mission to bring down witches, one vid at a time.
A Queen in Hiding (The Nine Realms series) by Sarah Kozloff
Orphaned, exiled and hunted, Cerulia, Princess of Weirandale, must master the magic that is her birthright, become a ruthless guerilla fighter, and transform into the queen she is destined to be. But to do it she must win the favor of the spirits who play in mortal affairs, assemble an unlikely group of rebels, and wrest the throne from a corrupt aristocracy whose rot has spread throughout her kingdom.
The Bard's Blade (The Sorcerer's Song series) by Brian D. Anderson
Mariyah enjoys a simple life in Vylari, a land magically sealed off from the outside world, where fear and hatred are all but unknown. There she's a renowned wine maker and her betrothed, Lem, is a musician of rare talent. Then a stranger crosses the wards into Vylari for the first time in centuries, bringing a dark prophecy that forces Lem and Mariyah down separate paths. How far will they have to go to stop a rising darkness and save their home? And how much of themselves will they have to give up along the way?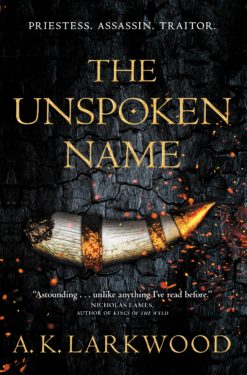 The Unspoken Name (The Serpent's Gate series) by A. K. Larkwood
Csorwe knows when and how she'll die. She'll enter the Shrine of the Unspoken and gain the most honored title: sacrifice. But on the day of her foretold death, a powerful mage offers her a new fate. Leave with him, and live. Turn away from her destiny and her god to become a thief, a spy, an assassin—the wizard's loyal sword. Topple an empire, and help him reclaim his seat of power. But Csorwe will soon learn—gods remember, and if you live long enough, all debts come due.
Unconquerable Sun (The Sun Chronicles) by Kate Elliott
Princess Sun has finally come of age. Growing up in the shadow of her mother, Eirene, has been no easy task. The legendary queen-marshal did what everyone thought impossible: expel the invaders and build Chaonia into a magnificent republic, one to be respected—and feared. But the cutthroat ambassador corps and conniving noble houses have never ceased to scheme—and they have plans that need Sun to be removed as heir, or better yet, dead.
The Sin in the Steel (The Fall of the Gods series) by Ryan Van Loan
Buc and Eld are the first private detectives in a world where pirates roam the seas, mages speak to each other across oceans, mechanical devices change the tide of battle, and earthly wealth is concentrated in the hands of a powerful few. It's been weeks since ships last returned to the magnificent city of Servenza with bounty from the Shattered Coast. When Buc and Eld are hired to investigate, Buc swiftly discovers that the trade routes have become the domain of a sharp-eyed pirate queen who sinks all who defy her.
Deal with the Devil (The Mercenary Librarians series) by Kit Rocha
Nina is an information broker with a mission—she and her team of mercenary librarians use their knowledge to save the hopeless in a crumbling America. Knox is the bitter, battle-weary captain of the Silver Devils. They're on a deadly collision course, and the passion that flares between them only makes it more dangerous. They could burn down the world, destroying each other in the process, or they could do the impossible: team up.
Architects of Memory (The Memory War series) by Karen Osborne
Terminally ill salvage pilot Ash Jackson lost everything in the war with the alien Vai, but she'll be damned if she loses her future. Her plan: to buy, beg, or lie her way out of corporate indenture and find a cure. When her crew salvages a genocidal weapon from a ravaged starship above a dead colony, Ash uncovers a conspiracy of corporate intrigue and betrayal that threatens to turn her into a living weapon.