By Ariana Carpentieri:
Summer is just around the corner, and nothing beats sitting out in the sunshine with a good book! But are you interested in making your outdoor reading time a tad bit sweeter? Well Forge has a treat in store for you! Read below to see what 5 desserts we think would pair best with a few our new summer reads.
---
A book with 'Coffee Shop' right in the title deserves to be paired with a delicious coffee-flavored dessert! These Cappuccino Cinnamon Roles will surely satisfy your sweet tooth. The mix of espresso and cinnamon will create a perfect balance and make you feel like you're sitting cozily at Magpie's; the magical coffee and curiosity shop featured in the book! Plus, cinnamon roles are known for being the most wholesome and precious dessert out there…and Heather Webber is the queen of writing feel-good stories with wholesome storylines and characters that become precious to your heart.
Mr. Katō Plays Family by Milena Michiko Flašar; translated by Caroline Froh
Mr. Katō is best known as a a curmudgeonly older gentleman, so I think a sour dessert would be best aligned with his grouchy demeanor. This deliciously tangy Lemon Bars recipe is one of my personal favorites (I make it every summertime for annual barbecues because my family loves it!) and I think it would pair perfectly with a book that features a grumpy main character that finds sweetness in his job at Happy Family, where employees act as part-time relatives or acquaintances for clients in need.

Mrs. Plansky is a sweet old lady who's tricked into losing all of her life savings. Law enforcement informs her that it's hopeless to find the scammers behind the heist, but Loretta Plansky refuses to be just another victim. In a courageous bid for justice, Mrs. Plansky follows her only clue on a whirlwind adventure to a small village in Romania to get her money and her dignity back—and perhaps find a new lease on life, too. With her trip whisking her off to Romania, I think this book calls to be paired with a classic Romanian dessert! Papanași, or Romanian cheese donuts, are by far the country's most popular and beloved dessert. Papanași can be fried or boiled – both are delicious, and the boiled variation generally has a breadcrumb and sugar coating!
Five Years After is a near-future thriller where John Matherson must contend with new threats to the fragile civilization that he helped rebuild. It's a story about rebuilding as a result of an apocalyptic-esque situation. Our main protagonist must find the strength within to start over, so that he can save the country and the people that he holds dear from even greater calamity. Best dessert for this book? I'm going to have to say it's this Brownie Cookie Dough Apocalypse Cake because if the end times are near, I want to be eating something decadent with an uncountable amount of calories that includes the best of both (ending) worlds—brownies AND cookie dough.
Raw Dog by Jamie Loftus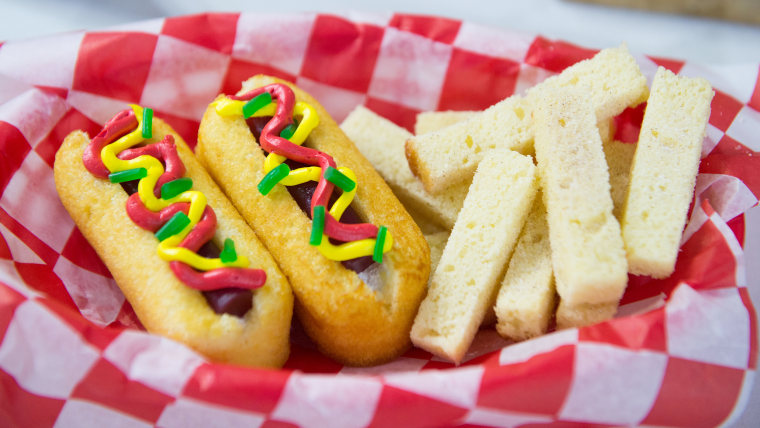 Raw Dog is a book all about hot dogs (with a healthy dose of travelogue and political commentary). And while a frankfurter might not be the best ingredient to include in a dessert, these adorable No-Bake Twinkie 'Hot Dogs' are the next best thing. They're quick and easy to make (just like real hot dogs are) and perfect to whip up for this upcoming 4th of July holiday. Trust me when I say this cute dessert is a real 'wiener!'