Today marks the first day of Banned Books Week, an annual celebration of the freedom to read. Ban This Book by Alan Gratz tells the story of a girl in fourth-grade who takes on her school when her favorite book is removed from the library. Over the years, many books have been challenged or banned in the U.S., most frequently for the given reasons of sexual content or explicit language. Here are eleven trouble-making books that made an appearance in Ban This Book.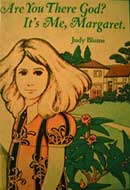 Are You There God? It's Me, Margaret. by Judy Blume
This book about a girl in sixth grade struggling with questions of religion and her experience going through puberty has been banned and challenged in numerous school districts because the book is supposedly sexually offensive and amoral. Others have targeted it as anti-Christian or immoral.
Scary Stories to Tell in the Dark by Alvin Schwartz
This classic anthology of illustrated horror stories was banned in many schools in the 1990s as too scary or age inappropriate. One parent even compared one of the stories about a murderer to a real life serial killer: "right away I thought of Jeffrey Dahmer."1
Matilda by Roald Dahl
The beloved story of Matilda, a young girl who loves to read and learns she has telekinetic powers, has been challenged for its depiction of adults, including Matilda's parents, being abusive and neglectful.
Harriet the Spy by Louise Fitzhugh

This novel is about an eleven-year-old girl who spies on her classmates and inadvertently sets off a firestorm when her book of her brutally honest, and sometimes cruel, observations about her classmates is discovered. Parents challenged the book for supposedly setting a bad example for children, supposedly encouraging them to spy, lie, and swear.
Wait Till Helen Comes by Mary Downing Hahn

A story about a girl who finds a ghost in her new house, Wait Till Helen Comes deals with heavy issues of death and suicide, but another parent objected to the book's portrayal of the main character talking to the dead. "The act of talking to the dead is called spiritism and is condemned in the Bible Galation 5:19-21," the father of a student wrote in his official complaint.2
It's Perfectly Normal by Robie H. Harris

It's Perfectly Normal is a book written for kids ages 10 and older to teach them about sexual health, relationships, and puberty. It's been banned across the country for content that's inappropriate for children, both for the frank discussion of sexuality and the inclusion of (non-graphic) illustrations of naked people. The book is intended as an educational resource for kids about a range of topics, including sexual orientation, gender identity, and abuse.
From the Mixed-up Files of  Mrs. Basil E. Frankweiler by E. L. Konigsburg

The removal of this book from her school library is what kicks off Ban This Book's heroine's act of protest. Complaints about From the Mixed-up Files of Mrs. Basil E. Frankweiler primarily object to the rest on the fear that children might imitate the heroine, who runs away from home to live inthe Metropolitan Museum of Art in New York City. Indeed, over the years many children have actually written to the Met to profess their desire to live at the museum.
The Junie B. Jones books by Barbara Park

The Junie B. Jones series is written in the voice of its five-year-old heroine – who doesn't always use proper English. Some adults have protested that the book's use of childish vernacular might inspire kids to use bad spelling and grammar. One complainant claimed that the series, which shows Junie sometimes acting out, "sends the message that… emotions such as hate are fine."3
The Captain Underpants books by Dav Pilkey

The long-running series of Captain Underpants books has been targeted for being inappropriate or unsuited to the age group, usually due to its crude humor. Others have claimed that the series encourages children to disobey authority. More recently, the 12th book in the series attracted some attention when a character was revealed to be gay.
The Egypt Game by Zilpha Keatley Snyder

This Newberry Award-winning book about a group of children who create an imaginative game based on Ancient Egypt was challenged on religious grounds for depicting occult rituals involving Ancient Egyptian gods. The parent who challenged the book said: "I don't believe any student should be subjected to anything that has to do with evil gods or black magic." (Newsletter on Intellectual Freedom, Jan. 2010, p. 17.)
Goosebumps by R. L. Stine

This beloved series of horror stories made the top twenty most-challenged books list between 1990 to 1999. Some parents feared the series was too frightening for kids, while others objected that the books contained Satanic themes or depictions of the occult.