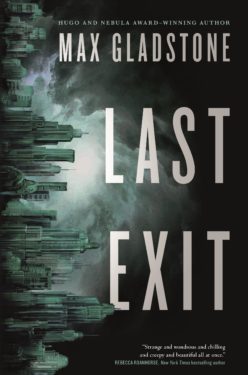 Do you love to listen to music when you read? We know we do, and we're especially excited that Max Gladstone, author of Last Exit, has shared his very own curated playlist to listen along to while we read his latest book. Check it out here!
---
By Max Gladstone
I wanted to write a road novel. I wanted to write a book about friends grown apart, a book that drew on memories and dreams and journals of bouncing around the country all summer in the back seat of a Plymouth Voyager, a book that understood space and could chew time. So, I needed a mixtape.
I used to do this for every road trip. There was a different art to it when you had to fit your vibe into a forty-five minute A side and a forty-five minute B. Poets know: constraint breeds creativity. You start to understand why radio singles used to have long outros, which lets the DJ choose the right moment to crossfade, and fit the tune to their set. I loved the challenge, and the music would set the tone for the trip. So: why not make a mixtape for a road trip into my own imagination?
This wasn't a playlist for the process itself, the actual word-by-word writing. In the flow, I drift between ambient albums, chiptunes, soundtracks, games music, jazz. I find tracks that have the right vibe or rhythm and drop them into a giant "writing music" folder, where live ancient OCReMix tracks based on the Morrowind title theme or the Chrono Trigger soundtrack. I do whatever works. But this wasn't a playlist to write by—this was a playlist to help me think through what I was thinking through. And the road, for me, is songwriter country.
"Good Man," Josh Ritter, The Animal Years
The Animal Years was my first Ritter album. I played it again and again in my bedroom in southeast China late at night as the Iraq War kept on being bad. The Animal Years casts a prophet's eye on America—clear, visionary, angry—and any three of its songs could have made it to this list, but the album resolves on this note of tired, broke-down grace. Even in its earliest iterations, I knew the book that turned into Last Exit would start after what felt like the end—after the breaking point, when the young kids who thought they could save the world tried, failed, and broke up. None of them have yet reached the promise this song holds out—of rest, of, at least, friendship—but it gave me, and them, something to steer toward.
"Tangled Up in Blue," The Indigo Girls, 1200 Curfews
I'm a Dylan fan, but—something magical happens when you give Dylan songs to someone else. Jimi Hendrix's "All Along the Watchtower" is the iconic version. And the Indigo Girls' cover of "Tangled Up in Blue" takes this raw and wry tale of wandering around the country, wondering what the hell happened to your generation, and layers in passion and mourning. In Dylan's version, the narrator feels resigned—of course it all went down like that, it couldn't have happened any other way, people are just like that and you have to understand. Here, the narrator cares. She misses what she's lost, and even though she's getting through, she's angry about it. That gave me the right touchstone for Zelda, for my main character: memory and loss, regret and anger, and a worn-down determination.
"Democracy," Leonard Cohen, Live in London
Speaking of prophecies. "It's coming with the feel that it ain't exactly real, or it's real, but it ain't exactly there." In this version, gravelly and terrifying, Cohen unsettles. It's "Democracy" by way of The Future, and you feel the hope, but you have to concede—it is murder. In earlier recordings, this song can feel triumphant, but by Live in London, you can't tell whether it's a prophecy of salvation or of Armageddon. Maybe both.
"Galahad," Josh Ritter, To the Yet Unknowing World
I heard this song for the first time live, and I went home and listened to it a dozen times in the next day. I love that walking-beat drum, like a cane echoing on a marble floor. I love the sly and vicious sense of humor. I love how virtue twists in this song—how nothing's quite what it sets itself out or up to be. You have to look under the surface. And the King Arthur mythos, as slantwise as we see it here, really speaks to me in an American country/folk/blues setting. It's the one you read in Steinbeck's The Acts of King Arthur, or in Tortilla Flat. Kings and knights in a land without knights and kings.
"Tear My Stillhouse Down," Gillian Welch, Revival
Gillian Welch is one of those songwriters who leaves you certain you've just heard a song that's a hundred years old.
"The Hobo Song," Old & In the Way, Old & In the Way
A track about being lost at the end of your part in the American story. Old & In the Way is a tremendous project—Pete Rowan, Jerry Garcia, David Grisman on mandolin, John Kahn, and of course all-star Vassar Clements's elegant, barn-burning fiddle. I could have a dozen of their songs on this playlist. Speaking of which…
"Panama Red," Old & In the Way, Old & In the Way
I'm honestly not sure what this song is doing here as opposed to, say, "Land of the Navajo," which has more of the cosmic vision I aimed for in Last Exit. Maybe it's just that "Panama Red" is a great name. Maybe it's that cowboy vibe. Maybe the tape needed a moment to breathe.
"Wagon Wheel," Old Crow Medicine Show, O.C.M.S.
You too, perhaps, have heard this one at every bonfire you've attended since the mid year-zeroes, and I hope that when you did, you had the fullness of heart to join in and sing. It's had a lot of play, and it's probably been used to sell some SUV somewhere, and that's fine, but for me when I hear this song, it's late at night, I'm in the middle of the People's Republic of China, far away from anyone and everything I grew up beside and especially from the Cumberland Gap and Johnson City, Tennessee, and a visiting buddy has just handed me a thumb drive with some music on it, and—well. I worked out the fiddle part that night.
"I Hear Them All," Old Crow Medicine Show, O.C.M.S.
The world is a hard place and there are lots of people hurting, and all that pain is a bright and fearful light. We close down in the face of it. David Rawlings, Gillian Welch's guitarist collaborator, has a great version of this song, too, which could be on this list, but the O.C.M.S. version is the one I heard first.
"Walking in Memphis," Marc Cohn, Marc Cohn
Look, okay, look. Just…look.
"Silver Thunderbird," Marc Cohn, Marc Cohn
You'll have noticed a lot of doubled artists on this track list, and to be honest, some of that's because I took out the album looking for one song, saw the other, and couldn't resist adding it. In this case, I couldn't pull out the Mark Cohn album without adding "Walking in Memphis"—"She said/ Tell me are you a Christian child?/ And I said 'Ma'am I am tonight'"—but "Silver Thunderbird" was why I got the album out in the first place. It's a haunting, brief song about being a kid, about your parents, about shoes you can't quite grow into—and about a car. I've never been a Car Person, and maybe because I'm not, I don't have the contempt familiarity can breed. For me, a few cars have a mythic heft. The Thunderbird is one, and so's the Dodge Challenger, which features in Last Exit. I can't say quite what it is about the Challenger. It's a haunting design. It's the car that idles at the corner, as if waiting for something. It's the car that the man in the hat drives when he comes to town.
"Pancho and Lefty," Townes Van Zandt
I could write whole essays on Townes Van Zandt. He's a tradition all to himself. Every one of his songs is a vision.
"Across the Great Divide," Nanci Griffith, Other Voices, Other Rooms
It's hard to write this entry now—I started and stopped and started and stopped again—because I haven't come to terms with Nanci Griffith's passing. Artists exist in strange ways. A writer you've never met remains as alive to you in their books as they ever were. We put on an album, and the ghosts sing to us. John M. Ford once wrote: the train stops, but the line goes on.
"The Queen and the Soldier," Suzanne Vega, Suzanne Vega
In college, I was fortunate to take a class from John Crowley, and in an offhand way as he was trying to make another point in a lecture, he touched on the way certain words gather and hold power—ring, or cup, or sword. I've often wished I could go back in time and replay those five minutes of lecture—I knew I was hearing something important, but trying to hold it in my mind felt like trying to hold a river. This song is about that power, I think, and it communicates in those words—the dream we have of the world, and the distance between that dream and the world. There's something young about the magic of those words. For a kid, the dream that a word like sword suggests can be clear and bright, even (especially?) because of its distance from the world we know. Do we ever look for the truth behind the dream? What happens when we do? Can we bear to leave the old world behind? Even as it strangles us?
"Jack's Crows," John Gorka, Jack's Crows
This is a drifting dream-song for me, not so much the storm as the darkening on the horizon, that feeling in the air before things change. It's autumn: not as the season of mists and mellow fruitfulness, but as a season of coming darkness, as a season of threat and prophecy. For me this is a song for long stretches of road, for weeds and roadside gravel. It's magic seeping out of the shadows. Calling us.
"I'm from New Jersey," John Gorka, Jack's Crows
To be honest, I like to end on a note of contrast. You can't stay in grim prophecy all the time. I'm not from New Jersey originally, but my dad is, and we did some growing up in Ohio, so a line like—"I'm from New Jersey/it's like Ohio/but even more so/imagine that"—I can't resist it. But listening to it again now, I'm struck by the opening and closing line, which is more true than I expected to Last Exit, in its totality: "I'm from New Jersey/I don't expect too much/If the world ended today/I would adjust." The end of the world is coming. So: what can we do?
This isn't the only playlist I could have made for this book—entire Mary Gauthier albums should be on here, for example, and Anais Mitchell's Young Man in America, and there's no Alabama 3 (which I think we're now required to call A3 in the States for trademark reasons?) only because I was listening to them a lot at the time and I wasn't sure how I felt about including a British project even if they have such intense Americana energy on projects like M.O.R. Tenacious D's "The Road" belongs on here for pure contrast and humor purposes—I can imagine more than one character in Last Exit saying, "Why can't I stay in one place for more than two days? Why??"
The music I wrote to, in the end, was silence, and the Mad Max: Fury Road soundtrack, and Makaya McCraven, and, in revision, the truly wild The Comet Is Coming album called Trust in the Lifeforce of the Deep Mystery. But as a mission statement, as a call to adventure, as a map—to the thematic territory, or just to the wall I meant to bash my head against—it did the job. It mapped a few of the cracks in the world. It gave me a cowboy and a car and it gave me loss, and absent friends.
And it left me looking for a tape deck.
MAX GLADSTONE is a fencer, a fiddler, and the winner of the Hugo and Nebula Awards for This is How You Lose the Time War, co-written with Amal El-Mohtar. A two-time finalist for the John W. Campbell Award, he is fluent in Mandarin and has taught English in China. He is also the author of the Craft Sequence of novels—a Hugo Award finalist, a game developer, and the showrunner for the fiction serial, Bookburners. Max lives and writes in Somerville, Massachusetts.
Order Last Exit Here: